This is a Sponsored post written by me on behalf of No nonsense for SocialSpark. All opinions are 100% mine.
I like looking cute. I don't know about you, but one of my favorite things is getting dressed up, especially in the fall/winter time. It's so easy to look fashionable in the cool weather because that means...it's tights season! 
One of my favorite outfit combinations in the winter is wearing a dress with a cardigan, tights, hat, boots or booties, and sometimes a scarf. Wearing all these can get super expensive, but at least I know I can easily buy tights really cheap. My favorite brand is definitely No nonsense tights and leggings. They're really inexpensive and come in sooo many colors. You can find them at grocery & drug stores as well as big retail stores like Target. 
I love love love tights. I can't get enough of them. Ideally, I would have them in every color. There's just something about them that takes an outfit to the "next level" and adds a pop of color to anything. Take this outfit I put together on Polyvore for example: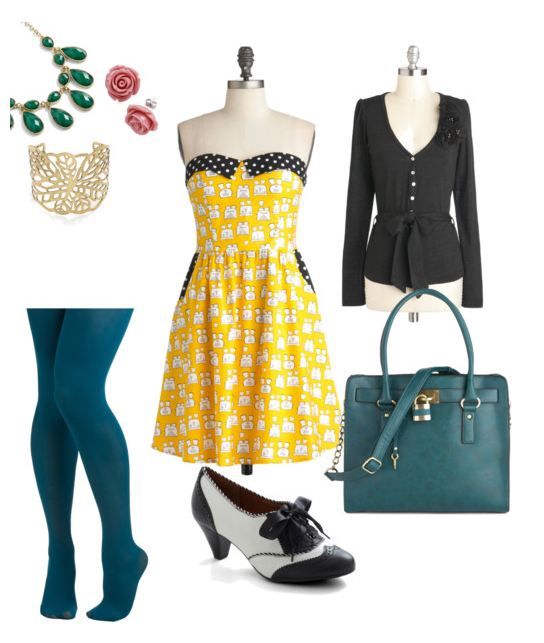 See how the turquoise just adds so much depth to the outfit? It give it a color scheme as opposed to just wearing a yellow and black dress. I also added a bunch of other fun accessories since it's super fun dress to accessorize.
Here's another cool thing: No nonsense is partnering up with Jill Martin for a new product launch and brand modernization. Jill Martin offers fashion advice on the Today Show and Access Hollywood. I think it's pretty cool that No nonsense is rebranding themselves since I think so few people know how awesome they are.
How to keep in touch with No nonsense as they rebrand themselves: 
Check out this awesome video: